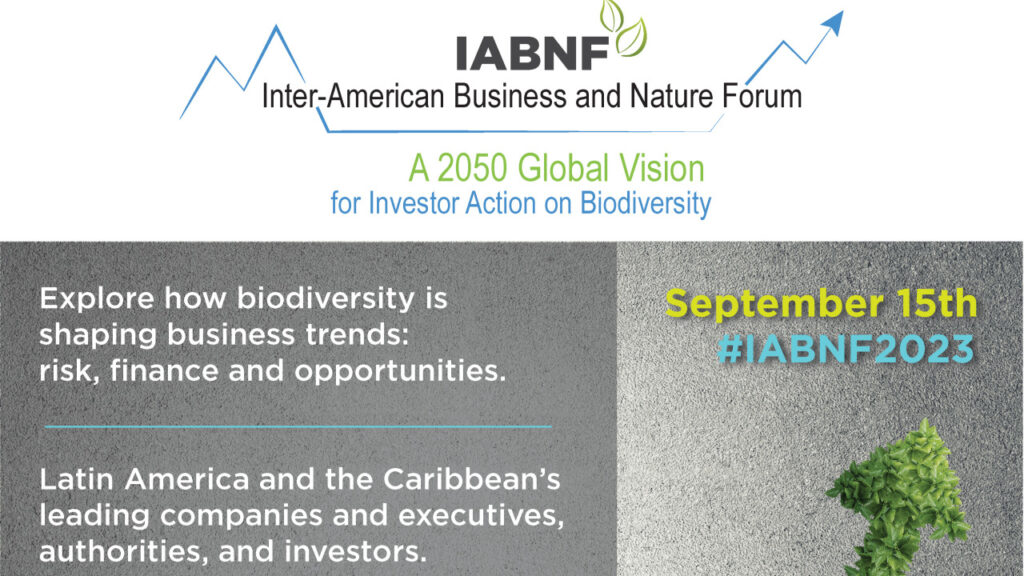 This in-person business forum hosted by 𝐈𝐈𝐉𝐒, 𝐋𝐚𝐭𝐀𝐦 𝐈𝐍𝐕𝐄𝐒𝐓𝐎𝐑 and key partners will bring together Latin America and the Caribbean's leading companies, authorities, and investors to explore how biodiversity will shape business trends in the region.
On the eve of the UN High Level Political Forum (HLPF) on Sustainable Development, it will analyse the path laid out for Investor Action in the Global 2050 Vision for Biodiversity, as these goals and targets will become a critical aspect of doing business in the region and beyond.
Forty per cent of the world's largest public companies have net zero targets. Climate change goals depend on nature and biodiversity. Both are inextricably linked and considered systemic risks in doing business. But while companies and investors increasingly understand the importance of climate change, very few realise the growing importance of biodiversity.
It is a crucial theme for companies that operate or invest in Latin America and the Caribbean, which is the world's most mega diverse region, yet disproportionately suffers the impacts of climate change. The negative impact of supply chains on biodiversity is a growing risk for investors in Latin America, especially as a wave of strict regulation sets liability for biodiversity loss. At COP 15, new global targets and a Global 2050 Vision have been adopted within the Kunming-Montreal Global Biodiversity Framework (GBF).
Inter-American Business and Nature Forum:
08:30 Registration of in-person delegates
09:00 – Opening Remarks
09:15 – Opening Keynote
10:00 – Coffee Networking Break
10:30 – Blue Economy
11:30 – Agribusiness
12:30 – Lunch
13:30 – Après Lunch Keynote
14:15 – Energy, Infrastructure & Just Transition
15:15 – Minerals and Metals
16:15 – Takeaways and Conclusions
17:00 – Keynote Close
SPEAKERS:
✅𝐂𝐚𝐫𝐥𝐨𝐬 𝐀𝐥𝐯𝐚𝐫𝐚𝐝𝐨 𝐐𝐮𝐞𝐬𝐚𝐝𝐚
𝟒𝟖𝐭𝐡 𝐏𝐫𝐞𝐬𝐢𝐝𝐞𝐧𝐭 𝐨𝐟 𝐂𝐨𝐬𝐭𝐚 𝐑𝐢𝐜𝐚 (𝟐𝟎𝟏𝟖-𝟐𝟎𝟐𝟐)
Professor Fletcher School of Diplomacy, Tufts University
08:30 Registration of in-person delegates
✅𝐄𝐫𝐧𝐞𝐬𝐭 𝐉. 𝐌𝐨𝐧𝐢𝐳
𝟏𝟑𝐭𝐡 𝐔.𝐒. 𝐒𝐞𝐜𝐫𝐞𝐭𝐚𝐫𝐲 𝐨𝐟 𝐄𝐧𝐞𝐫𝐠𝐲 (𝟐𝟎𝟏𝟑-𝟐𝟎𝟏𝟕)
CEO of the Energy Futures Initiative and EJM Associates Professor of Physics and Engineering Systems emeritus MIT at MIT and Special advisor to the MIT president
✅𝐀𝐠𝐨𝐬𝐭𝐢𝐧𝐚 𝐏𝐞𝐜𝐡𝐢
𝐌𝐚𝐧𝐚𝐠𝐢𝐧𝐠 𝐃𝐢𝐫𝐞𝐜𝐭𝐨𝐫- 𝐇𝐞𝐚𝐝 𝐨𝐟 𝐄𝐦𝐞𝐫𝐠𝐢𝐧𝐠 𝐌𝐚𝐫𝐤𝐞𝐭𝐬 𝐚𝐧𝐝 𝐂𝐨𝐦𝐦𝐨𝐝𝐢𝐭𝐢𝐞𝐬 𝐋𝐨𝐜𝐚𝐥 𝐒𝐚𝐥𝐞𝐬 𝐚𝐧𝐝 𝐋𝐚𝐭𝐢𝐧 𝐀𝐦𝐞𝐫𝐢𝐜𝐚 𝐒𝐭𝐫𝐮𝐜𝐭𝐮𝐫𝐞𝐝 𝐂𝐫𝐞𝐝𝐢𝐭 𝐒𝐚𝐥𝐞𝐬 𝐚𝐭 𝐆𝐨𝐥𝐝𝐦𝐚𝐧 𝐒𝐚𝐜𝐡𝐬
✅𝐒𝐜𝐨𝐭𝐭 𝐂𝐚𝐥𝐝𝐰𝐞𝐥𝐥
𝐂𝐄𝐎 𝐨𝐟 𝐒𝐨𝐥𝐆𝐨𝐥𝐝 𝐚𝐧𝐝
𝐏𝐫𝐞𝐬𝐢𝐝𝐞𝐧𝐭 𝐨𝐟 𝐒𝐨𝐥𝐆𝐨𝐥𝐝 𝐄𝐜𝐮𝐚𝐝𝐨𝐫
✅𝐑𝐢𝐜𝐚𝐫𝐝𝐨 𝐋𝐨𝐫𝐞𝐧𝐳𝐞𝐭𝐭𝐢
𝐉𝐮𝐝𝐠𝐞 𝐒𝐮𝐩𝐫𝐞𝐦𝐞 𝐂𝐨𝐮𝐫𝐭 𝐨𝐟 𝐉𝐮𝐬𝐭𝐢𝐜𝐞 𝐨𝐟 𝐀𝐫𝐠𝐞𝐧𝐭𝐢𝐧𝐚. 𝐒𝐞𝐫𝐯𝐞𝐝 𝐚𝐬 𝐭𝐡𝐞 𝐂𝐡𝐢𝐞𝐟 𝐉𝐮𝐬𝐭𝐢𝐜𝐞 𝐨𝐟 𝐭𝐡𝐞 𝐒𝐮𝐩𝐫𝐞𝐦𝐞 𝐂𝐨𝐮𝐫𝐭 𝐨𝐟 𝐀𝐫𝐠𝐞𝐧𝐭𝐢𝐧𝐚 𝐟𝐫𝐨𝐦 𝟐𝟎𝟎𝟕-𝟐𝟎𝟏𝟖
✅𝐂𝐡𝐫𝐢𝐬𝐭𝐢𝐧𝐚 𝐕𝐨𝐢𝐠𝐭
𝐂𝐨-𝐂𝐡𝐚𝐢𝐫 𝐏𝐚𝐫𝐢𝐬 𝐀𝐠𝐫𝐞𝐞𝐦𝐞𝐧𝐭 𝐂𝐨𝐦𝐩𝐥𝐢𝐚𝐧𝐜𝐞 𝐚𝐧𝐝 𝐈𝐦𝐩𝐥𝐞𝐦𝐞𝐧𝐭𝐚𝐭𝐢𝐨𝐧 𝐂𝐨𝐦𝐦𝐢𝐭𝐞𝐞
𝐂𝐡𝐚𝐢𝐫 𝐨𝐟 𝐈𝐔𝐂𝐍-𝐖𝐂𝐋
𝐏𝐫𝐨𝐟𝐞𝐬𝐬𝐨𝐫 𝐨𝐟 𝐥𝐚𝐰 𝐚𝐭 𝐭𝐡𝐞 𝐔𝐧𝐢𝐯𝐞𝐫𝐬𝐢𝐭𝐲 𝐨𝐟 𝐎𝐬𝐥𝐨
✅𝐂𝐚𝐫𝐥𝐨𝐬 𝐌𝐚𝐧𝐮𝐞𝐥 𝐑𝐨𝐝𝐫𝐢𝐠𝐮𝐞𝐳
𝐂𝐄𝐎 𝐚𝐧𝐝 𝐂𝐡𝐚𝐢𝐫𝐩𝐞𝐫𝐬𝐨𝐧 𝐆𝐄𝐅 𝐂𝐨𝐮𝐧𝐜𝐢𝐥
Join the conversation on social media using #IABNF2023!
Learn more about the event: https://ii-js.org/iabnf2023/
For further information contact: Geovanny Vicente-Romero ([email protected])