The John Brademas Center and NYU Washington, DC hosted this DC Dialogues, "Ushering in a New Era of Change and Transparency: A Conversation with His Excellency Dominican President Luis Rodolfo Abinader Corona" on November 30, 2020 at 11 am ET. Serving as interlocutor was Geovanny Vicente Romero, Writer, Founder, Dominican Republic Center of Public Policy, Leadership and Development (CPDL-RD), and Columnist for CNN. First year Liberal Studies Student Evan Davis provided the introduction.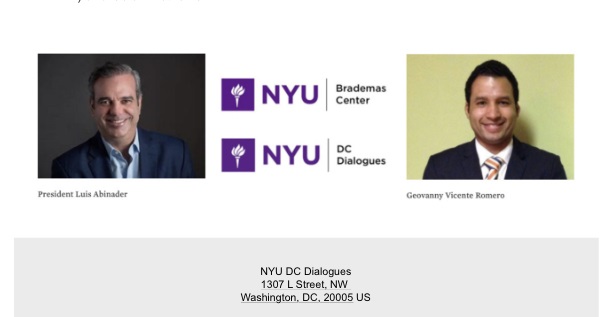 Following his first 100 days in office, President Abinader will discuss the transformational reforms underway in the Dominican Republic in the areas of public administration, transparency, Universal Health Care, and the investment climate, with the greater New York University and NYU DC communities. In 2019, Luis Abinader was elected as a candidate for the presidency in the internal convention of his party, Modern Revolutionary Party (PRM), becoming the President of the Dominican Republic in the presidential elections of July 5, 2020, for the period 2020-2024.
 A seasoned businessman turned politician, President Abinader represents a new era of leadership for the Dominican Republic, Caribbean and Latin America. Join us in traveling to an important part of the world for a wide-ranging talk with President Abinader.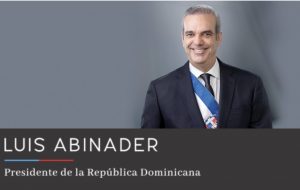 Presidente Luis Abinader – Presidencia de la República
Luis Rodolfo Abinader Corona is currently Executive President of the ABICOR Group, which has developed and operated important tourism projects in the country. This family group directed the business project of what is today the company Cementos Santo Domingo, of which he is Vice President He has been president of the Association of Hotels of Sosúa and Cabarete and is a member of the Board of Directors of the National Association of Hotels and Restaurants (ASONAHORES), Member of the Board of Directors of the Fundación Universitaria O&M.
He was born in the city of Santo Domingo on July 12, 1967, married to Raquel Arbaje Soni, and is the father of three daughters, Esther Patricia, Graciela Lucía and Adriana Margarita. He is the son of businessman and political leader José Rafael Abinader Wassaf, and Mrs. Rosa Sula Corona Caba,
He studied high school at Colegio Loyola, obtained a degree in Economics from the Instituto Tecnológico de Santo Domingo. He completed postgraduate studies in Project Management at the Arthur D. Little Institute in Cambridge, Massachusetts. He also studied Corporate Finance and Financial Engineering at Harvard University and Advanced Management at Darmouth College in New Hampshire. Elected vice president of the Dominican Revolutionary Party at the 2005 National Convention.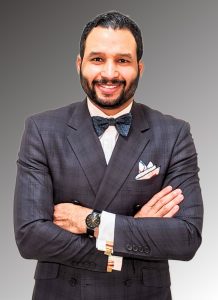 Geovanny Vicente Romero writes an internationally acclaimed column for CNN. He is a Washington, D.C.-based political strategist, consultant and lecturer. Geovanny publishes investigative and analytical articles on political communication, democracy, development, human rights, governance, elections, the environment, and the role of women in society. He founded the Dominican Republic Center of Public Policy, Development, and Leadership (CPDL-RD). Geovanny earned a masters degree in political communications and strategic governance from The George Washington University and is a PhD candidate in political science and public administration at the University of Murcia, Spain.  Geovanny is the recipient of the Dominican National Youth Award for professional excellence, the nation's highest honor for people 35 and under. Reach him on Twitter: @GeovannyVicentR.
.
****