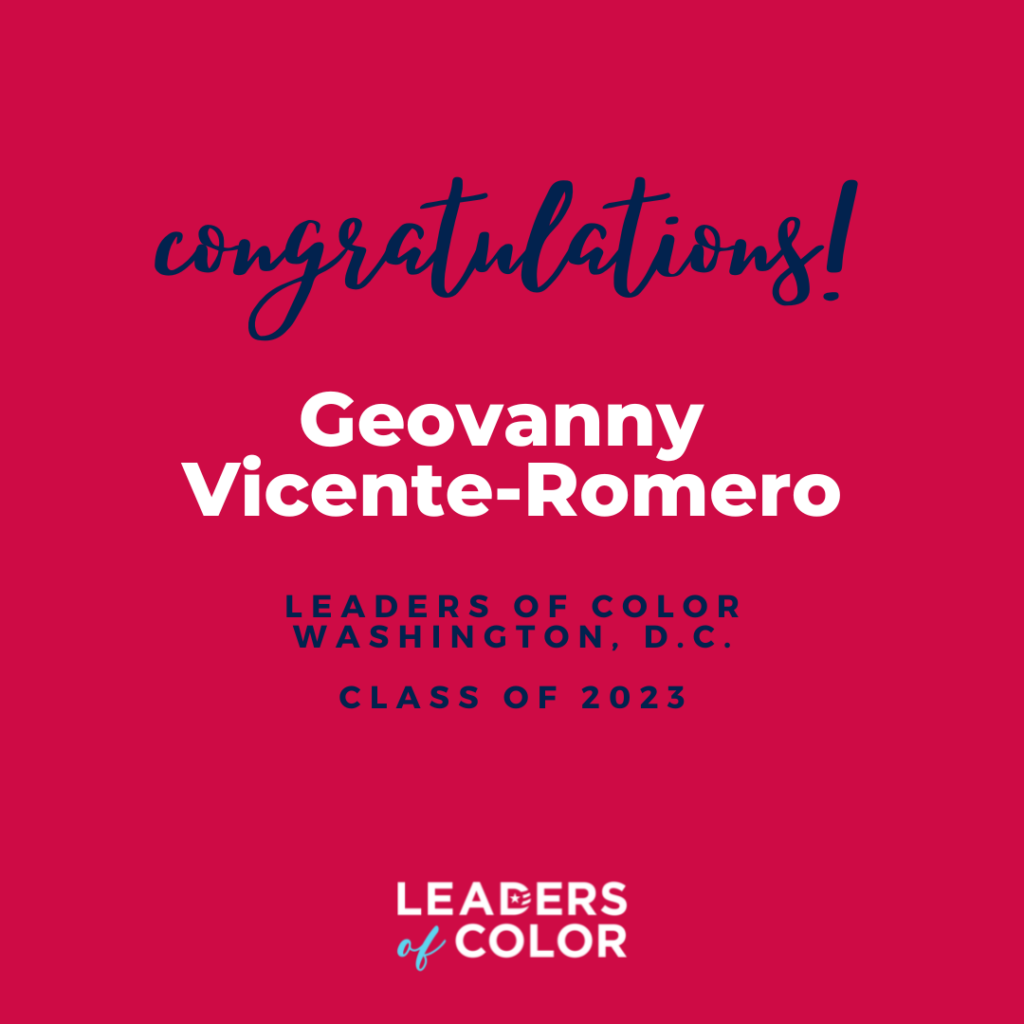 "Honored to be named to the Leaders of Color Class of 2023.
Representation matters not just in #BlackHistoryMonth but every single day. Humbled to join community-based Black and Latino civic #change makers from across the United States.
This moment in history for advancing #Diversity, #Equity, #Inclusion and #Accessibility (#DEIA) can be met with ACTION.
Check out my fellow leaders: https://lnkd.in/evCVHNuW."
"We are very excited to announce our new class of over 60 leaders in Louisiana, Memphis, and Washington, D.C.! These leaders are passionate advocates for equitable policy, community engagement, and civic action in their communities."
"Each fellow brings something powerful and unique to their communities and to leadership within them. Over the coming year, it is our goal to provide these community leaders with the skills, knowledge, and tools that they need to make a positive impact on their local public schools, their local communities, and well beyond." said Mike Bland, Vice President, Leaders of Color.
About the program: Leaders of Color identifies, trains, and supports community-based Black and Latino civic leaders, empowering them with the tools and resources to advance educational equity and the broader cause of racial justice. The Leaders of Color program fills the gap between the tremendous talent of community-based leaders of color and the resources and investment required to empower those leaders to create lasting civic and electoral change.
We specifically support leaders who may not typically have the opportunities and institutional support to run for public office, helping them develop the skills and leadership experiences needed to make national and global impact.
About Geovanny Vicente-Romero:
(Website) – Geovanny Vicente Romero writes an internationally acclaimed column for CNN. He is a Washington, D.C.-based political strategist, consultant and lecturer. Geovanny teaches Strategic Communications for Professionals at Columbia University's School of Professional Studies (SPS) where he also serves Columbia University's Diversity, Equity, Inclusion, and Accessibility (DEIA) Committee as a member for the year 2022-2023. Geovanny publishes investigative and analytical articles on political communication, democracy, development, human rights, governance, elections, the environment, and the role of women in society. He founded the Dominican Republic Center of Public Policy, Development, and Leadership (CPDL-RD). Geovanny earned a masters degree in political communications and strategic governance from The George Washington University among other degrees in law and public administration from Spain and Dominican Republic. Geovanny is the recipient of the Dominican National Youth Award for professional excellence, the nation's highest honor for people 35 and under. Vicente-Romero is also the recipient of the Napolitan Victory Awards (Column of The Year Award 2020- CNN en Español), granted by The Washington Academy of Political Arts & Sciences™ In 2022, he was recognized as Global Top 100 Most Influential People of African Descent (MIPAD – New York) – Politics & Governance (Class of 2022), following the opening of the 77th United Nations General Assembly, in New York.
In 2022, Geovanny Vicente-Romero, was recognized as one of the He-For-She Champion for The Denim Club, a group of male figures that work to close the gender equality gap by promoting equity and more opportunities for the recognition and visibility of female leadership. At the same time, Vicente-Romero joined the G100 as Global Advisor on Mentoring & Motivation a committee. In 2023, Geovanny was named to Leaders of Color Class of 2023, alongside 60 leaders in Louisiana, Memphis, and Washington, D.C
Geovanny has worked in partnership with New York University (NYU)'s Washington DC Campus to further educate the public about governance through the DC Dialogues series. He has interviewed the Organization of American States Secretary General Luis Almagro, the Dominican Republic's President Luis Abinader, Colombia's former President Alvaro Uribe, Costa Rica's President Carlos Quesada, El Salvador's Vice President Felix Ulloa, The Inter-American Dialogue's President Michael Shifter, among others. These talks were shared with the Princeton University's community and were widely attended by stakeholders and NYU community members in Washington, D.C.
#LeadersOfColorMatter #RepresentationMatters #ColumbiaSPSFaculty #Community #Leaders