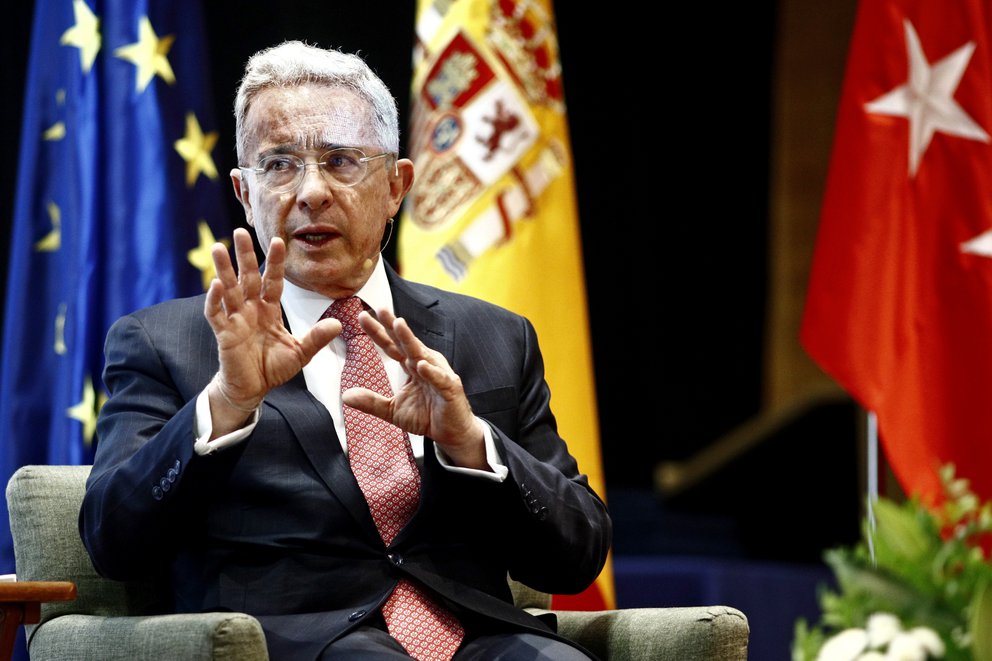 El evento, organizado por el NYU Brademas Center y la Universidad de Nueva York, se desarrollará el próximo miércoles 5 de mayo
3 de Mayo de 2021 Álvaro Uribe Vélez, ex presidente de Colombia (Eduardo Parra – Europa Press)
Álvaro Uribe Vélez, ex presidente de Colombia entre 2002 y 2010, participará el próximo miércoles 5 de mayo de una conferencia virtual organizada por el NYU Brademas Center y la Universidad de Nueva York (NYU Washington, DC), que estará abierta al público.
La conferencia, que se desarrollará a las 4 pm, hora de Washington (3 pm en Colombia), tendrá lugar en el marco de la tensión vivida en el país por la reforma tributaria que pretendía impulsar el actual jefe de Estado, Iván Duque -y ahijado político de Uribe- quien, tras cuatro días de intensas protestas sociales en contra de la iniciativa, ordenó este domingo 2 de mayo retirar el texto que radicó el Ministerio de Hacienda en el Congreso de la República. Duque anunció que se buscará consensuar un proyecto nuevo con actores del arco político y la sociedad civil.
El conversatorio también contará con la participación de la abogada internacional ambiental dominicana y experta en ciencias políticas, Claudia S. de Windt.
Como reseña NYU en su portal web, el ex presidente Uribe compartirá su trayectoria e ideas sobre la búsqueda de seguridad ciudadana y ambiental en su país, la democracia más antigua de América Latina. Durante la conferencia se destacarán sus contribuciones sobre esas temáticas y programas innovadores enfocados en la sostenibilidad y en el sustento de familias como un medio para promover la democracia y la seguridad, así como ideas y perspectivas sobre el futuro de Colombia.
De Windt, en tanto, proveerá una perspectiva del sistema interamericano y sobre cómo extrapolar estas acciones y programas a otras subregiones y países.
La directora ejecutiva del Instituto Interamericano de Justicia y Sostenibilidad (IIJS), con sede en Washington, también se desempeña como profesora en la American University (AU), en la capital del país norteamericano.
Durante casi dos décadas De Windt fue jefa de la Sección de Derecho Ambiental, Política y Buena Gobernabilidad de la Organización de Estados Americanos (OEA), habiendo desempeñado funciones además en la Secretaría de Seguridad Multidimensional del organismo interamericano.
Geovanny Vicente-Romero, moderador de los Diálogos de DC, dirigirá el conversatorio. El escritor y politólogo, que se desempeña como asesor internacional, es también el fundador del Centro de Políticas Públicas, Desarrollo y Liderazgo (CPDL-RD) de la República Dominicana.
El evento será introducido, por su parte, por Christina Bowllan, estudiante del centro NYU en Shanghái, China.
Esta discusión forma parte de la iniciativa de diálogos de alto nivel realizados en la capital de los Estados Unidos, mejor conocida como #DCDialogues. La conferencia será abordada bajo el título "Sustainable Colombia: Politics, Planet and Democratic Security: A Conversation with President Alvaro Uribe Velez" ("Sostenibilidad en Colombia: Política, Planeta y Seguridad Democrática").
El evento será seguido de forma simultánea desde los centros del NYU de África, Asia y Medio Oriente, Australia, Europa, América del Norte y América del Sur incluyendo Shanghái, Abu Dabi, Accra, Berlín, Buenos Aires, Florencia, Londres, Los Ángeles, Madrid, Paris, Praga, Sídney, Tel Aviv, y Washington, D.C.
Con información para registro en: nyu.edu.
Fuente: Infobae