Geovanny Vicente-Romero, writer, CNN en Español columnist, strategist and associate faculty at Columbia University formally joins the G100 as Global Advisor on Mentoring & Motivation a committee led by Yanire Braña. At the same time, Vicente-Romero has been recognized as African Diaspora Feature of the Week by Who's Who: The African Diaspora.
Who's Who: The African Diaspora said, «Geovanny Vicente-Romero regularly appears on leading international news outlets including CNN, The Washington Post, Washington Examiner, Newsweek, HuffPost, The Jerusalem Post, etc. He has been a featured writer for the Inter-American Development Bank (IDB) and international news agencies such as Mexico's El Universal, among others.
Vicente is the founder of the Center for Public Policy, Development, and Leadership of the Dominican Republic (CPDL-RD), and the recipient of the Dominican Republic's Provincial Youth Award in Professional Leadership».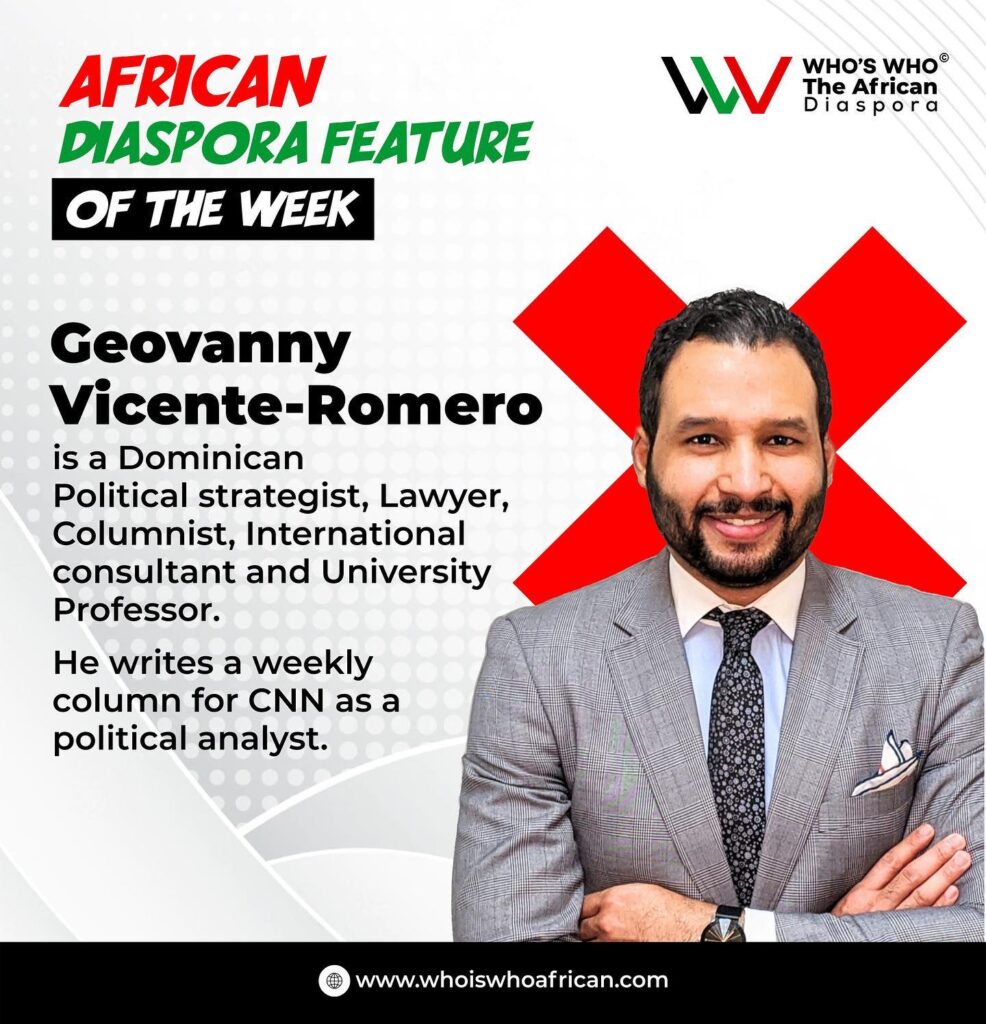 Vicente Romero said, «Thank you Who's Who African Diaspora for highlighting my career as the «African Diaspora Feature of the Week». #Africa is a major force for the future and it should not be about what we do FOR Africa, but what we do WITH Africa. This purpose can be achieved by integrating the experiences of Africans in the diaspora to build a Brighter African Diaspora that will rebound on the continent».
Who's Who: The African Diaspora, headquartered in Houston, Texas, is a compendium of African professionals trailblazing across the globe representing various industries and are principalities in their field of influence on the African continent as well as other nations.
This collection of profiles serves as a bridge to foster greater understanding between the continent and their respective country of residence. Moreover, it mobilizes the Who's Who of Africans in the diaspora and become a win-win for Africa, to connect and accelerate Africa's social and economic development.
#Leadership #Developement #Writer #AfricanStories #MIPAD